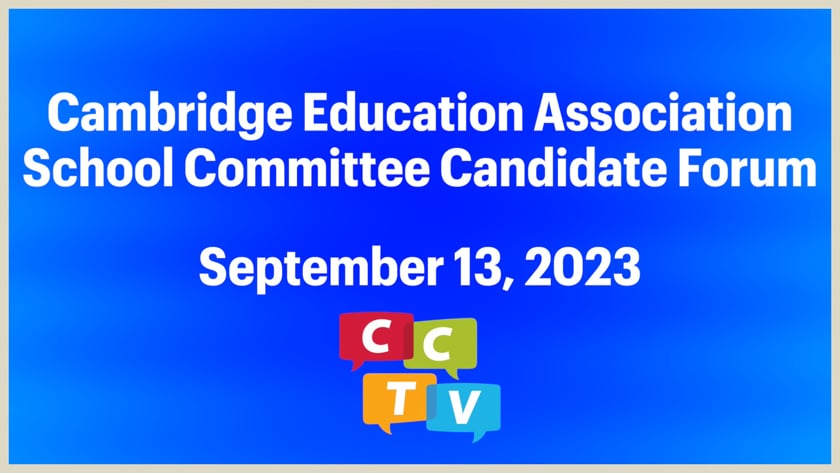 This Week's Featured Forum
The 2023 municipal election season has begun and Cambridge Community Television would like to inform all certified candidates, campaign managers, political groups, and event organizers of the services we offer.  CCTV is a 501c3 nonprofit organization that provides video equipment, training, channel time, and streaming video to residents and organizations in Cambridge. Your campaign or political group could be using our free services to reach cable subscribers in Cambridge (and beyond).
Here's how:
1.  Free Video Production for Candidates
Each certified candidate may receive a professional 5-minute studio recording of their candidacy free of charge. Videos are then cablecast on our channels during election blocks approximately 20 times each, and will be available on demand from our website. Recording slots are 30 minutes and are reserved on a first come, first served basis. Please contact Seth Myer at 617-401-4006 or seth@cctvcambridge.org to make your appointment.  See examples of our special candidate programming.
2. Produce and Submit Your Own Videos
Any Cambridge resident, including candidates for Cambridge office, may submit a single, one-time pre-recorded program or produce one live show to be scheduled on CCTV's channels free of charge, this includes public candidate forums and events. More information is found here: https://www.cctvcambridge.org/submit-a-program
Cambridge residents may become members of CCTV and access equipment and facilities to produce programming on a regular or series basis. Options include hosting your own weekly live television program or borrowing portable production equipment to record in the field. In all cases, producers must complete a minimum level of free training in order to be eligible to use production equipment on their own - this takes advanced planning on your part. All media produced with CCTV equipment must be submitted for broadcast on CCTV's channels and websites.  Details here:: https://www.cctvcambridge.org/produce/
3.  Free Video Coverage of Public Candidate Forums and Events
CCTV offers video recording services for public candidate forums, available by request under the condition that all certified candidates are invited, no specific candidates or platforms are endorsed, the event is open to the public, and the event organizer provides CCTV with a minimum of one week notice prior to the event. Subject to volunteer availability, CCTV will send one or more videographer to public candidate forums to record and broadcast the event on CCTV's channels and websites. Events scheduled within six days of the election will not be eligible for coverage. Please contact Seth Myer at 617-401-4006 or seth@cctvcambridge.org to request coverage of a candidate forum. CCTV will also air prerecorded citizen candidate forums on our channels.
4.  Election Programming Policies
CCTV considers election programming to commence with the certification of candidates for the ballot and end on Election Day.  During this time all candidates on the local and county ballot will receive notice of CCTV's policies and availability of resources within 2 weeks of certification of the ballot, and if requests are made on behalf of a campaign, others on the ballot will be notified.
CCTV has a responsibility to provide an open political forum and all community members have equal access to the facilities and channel time. Political candidates are subject to the same operating procedures as all other users of our access facilities.  CCTV has no responsibility to produce programming for a candidate because another candidate requests resources. There is no equal time rule for cable TV.
There shall be no programming relating to a candidate or election cablecast on CCTV later than the Sunday at midnight prior to that election.  CCTV, however, may initiate its own election-related programming after this period.
We hope that you utilize these free and low cost production opportunities offered during the municipal election season.